About Dr. Howard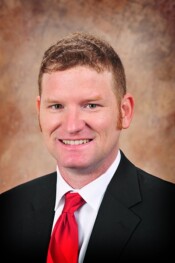 Dr. Drew Howard is board certified by the American Board of Surgery, and the only fellowship trained certified surgeon by the American Board of Metabolic and Bariatric Surgeons in Montgomery County. He believes that taking care of his patients is a privilege and it is important to work with them to find the best possible treatment. He focuses on developing a full weight loss program while utilizing a comprehensive bariatric team approach to treat his patients for the best results and to minimize their postoperative pain through small incision surgery.
A native Texan, Dr. Howard grew up locally, graduating from Klein High School. He completed his undergraduate degree, BS in Mathematics, at Texas A&M University, a Master of Arts in Religion at Trinity Evangelical Divinity School and earned his medical degree from The University of Texas Health Science Center in San Antonio. He then completed his General Surgery Residency at the University of South Alabama and a fellowship in Bariatric and Minimally Invasive Surgery at the University of Florida in Gainesville.
Dr. Howard has authored and presented research related to bariatric surgery, treatment of reflux, and sleeve gastrectomy. He has received a number of awards including recent Top Gun finalist at the annual SAGES laparoscopic competition, Gold Humanism in Medicine Award, and recognized in a number of peer reviewed journals and articles. Memberships include Fellow of the American College of Surgeons, Fellow of the American Society of Metabolic and Bariatric Surgeons, and Speaker for the Christian Medical and Dental Association.
Dr. Howard holds many medical leadership positions in the community including: Co-Medical Director of Bariatric Surgery at Memorial Herman The Woodlands Medical Center, Director of Reflux Surgery at Houston Methodist The Woodlands, and a Surgeon Champion for the American College of Surgeons Quality Initiatives.

Dr. Howard enjoys spending time with his wife and four children, playing golf, lake activities, and watching Aggie sports.
Dr. Howard takes care of and sees patients from all around the state of Texas and the greater Houston area including The Woodlands, Conroe, Kingwood, Spring, Huntsville, and College Station. You may attend one of the free informational bariatric seminars or may visit the Free Seminars page to learn more about Dr. Howard and the surgical weight loss options available. Spanish speakers welcome. Our bariatric coordinator is fluent in both English and Spanish.
If your insurance does not cover the procedures or you want to pay cash, we offer a cash price options available for all procedures. Additionally, based on our medical work up after the initial consultation we may be able to offer surgery at almost half the cash price if certain comorbidities are found. Complete financing is available if needed.

In addition to metabolic and weight loss surgery, Dr. Howard uses his advanced laparoscopic skills in his general surgery practice to take care of a number of surgical diseases via some of the most minimally invasive techniques.
Dr. Howard is glad to also now offer to his patients the gastric balloon. Dr. Howard is one of first in the city of Houston to be placing the ReShape gastric balloon in patients.